Commissioners on The Rock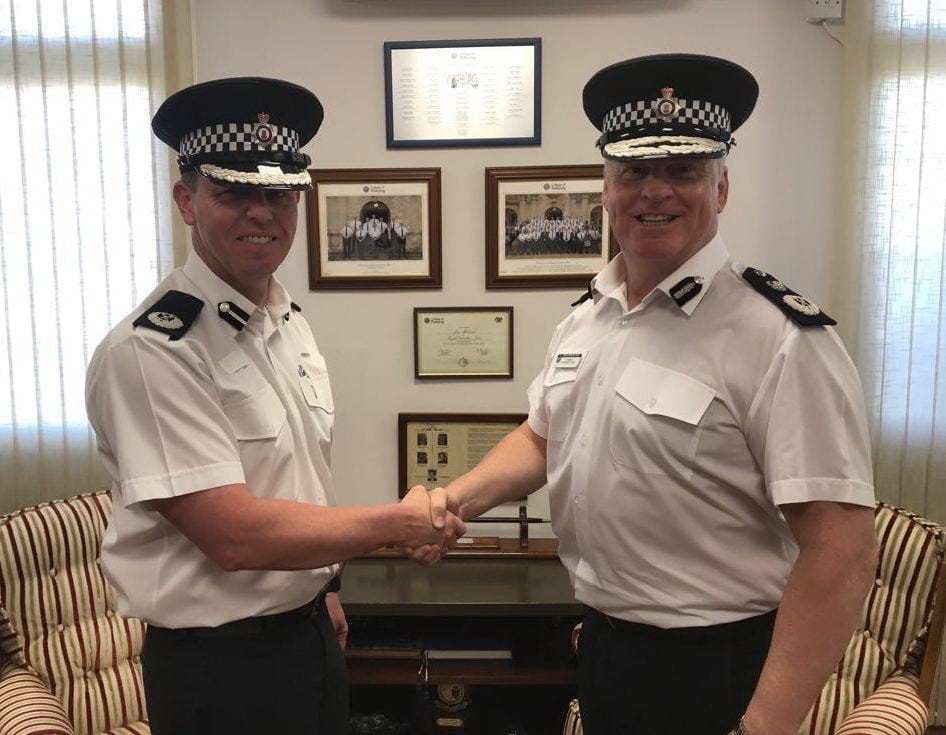 Richard Mifsud & Ian McGrail
To: Sgt. John Olivera of The Royal Gibraltar Police
2nd August 2018
Dear John,
Good afternoon and good wishes.
Thank-you for our brief encounter yesterday morning during your police officer recruitment event held in the Time-Out Café Bar.
Mandatory police officer retirement age notwithstanding, as you'll doubtless recall, my attendance yesterday was not driven by any desire to be recruited as a police officer in The Royal Gibraltar Police. However, ascertaining your organisation's position with respect to the strategic intelligence analysis function was my declared motive. Within that context, we spoke briefly with reference to Commissioner Ian McGrail's strategic risk assessment priorities, which if I have understood correctly, included combating terrorism and the threat from terrorism, as his number one priority.
In explaining that the intelligence analysis function was currently performed by police officers, rather than qualified civilian support staff, you indicated to me, upon learning a tiny bit about my career background, that a curriculum vitae could be submitted via you, with a view to it being passed up the chain of command, if appropriate.
Reflecting upon your helpful suggestion further, an Executive Summary of a SIA, tailored especially for The Commissioner Ian McGrail, and his Senior Command Team, has been compiled.
Given your engagement with new recruit candidates, it is hoped that you will initially read the SIA for yourself, and take heed. Then, please ensure that this submission gets passed up the chain of command, to Ian McGrail, and his Deputy Commissioner, Richard Mifsud, as you promised to do, and preferably all other members of his Senior Command Team. At the very least, I would be grateful to receive your personal acknowledgement of receipt of my SIA for RGP.
The report in question, now follows.
EXECUTIVE SUMMARY
AN UNRESTRICTED STRATEGIC INTELLIGENCE ASSESSMENT
FOR
THE COMMISSIONER OF THE ROYAL GIBRALTAR POLICE
Author: Tony Farrell
Sponsor: JAH, Christ in His Second Coming
Date of Compilation: 1st August 2018
Distribution:
Ian McGrail, Commissioner of The Royal Gibraltar Police; Richard Mifsud, Deputy Commissioner of The Royal Gibraltar Police; Sergeant John Olivera of The Royal Gibraltar Police.
SECTION 1
The Vulnerability of The Royal Gibraltar Police
In 1992, the Gibraltar Police Force was granted the "Royal" prefix by a fraudulent criminal queen, who goes by the name of Elizabeth II. Given the RGP lists "INTEGRITY" amongst its eight values, the following 95 point theses on Elizabeth Battenberg, ought to prove highly instructive for the Commissioner when considering vulnerability, risk and threat.
In short, the 95 theses reveal how the criminally insane Elizabeth Battenberg just so happens to be the number one enemy of Christ, here on Earth in His Second Coming, and Elizabeth, the fraudulent queen, more than anyone else on the planet, represents the key blockage to building God's Kingdom on Earth.
SleuthER's 95 Theses
http://jahtalk.thefarrellreport.net/sleuthers-95-theses/
Crucially for you all, it is prophesied in Holy Scripture that from Gibraltar will the restoration take place.
RECOMMENDATION 1:
That the Commissioner incorporates SleuthER's 95 Theses into The RGP risk register, and duly assesses its veracity.
SECTION 2
The Commissioner of The Royal Gibraltar Police shuns The Sun of Righteousness
In the 1995 annual report of South Yorkshire Police, a former Chief Constable cited Burke.
"The only thing necessary for the triumph of evil is for good men to do nothing."
In an email to the RGP Commissioner, dated 3rd May 2018, Christ in His Second Coming, provided your Ian McGrail with some extra-ordinary advice. Three months later, and it appears that Ian McGrail has unwisely failed to respond to the best advice on Earth. Mr. McGrail has by virtue of doing absolutely nothing, thereby undermined each and every one of your organisation's very own listed values, as itemised here: integrity; customer focus; teamwork, valuing people; proactive; professionalism; respect; and community awareness.
Amidst all this customary police rhetoric, how is Ian's inaction showing good leadership from the top, I ask myself, rhetorically.
To remind one and all, Christ's previous advice, as given to Ian, was as follows:
Subject: Advice from Christ
From: "JAH" <JAH@JAHTruth.net>
Date: Thu, May 3, 2018 14:00
To: Ian.McGrail@royalgib.police.gi
Christ's Advice
Dear Ian,
We hope this finds you well, in good spirit and having a good day.
We are writing to you to congratulate you on your promotion to commissioner, and to offer Our assistance in preparing for WW3, that the New World Order globalists are desperately trying to start.
We have been warning and advising the people of Gibraltar, for a number of years, including with the Gibraltar Messenger editions and DVDs, about what is coming, but have so far been ignored by the authorities, who seem to think that WW3 is not going to happen, even with all the obvious signs that it is.
http://gibraltarmessenger.net/
The ONLY way for Gibraltar to be safe is with God the Ruler of The Universe's protection, and in order to receive that, Gibraltar has to return to The Law and The Covenant.
We wrote to Eddie, as We were friends with his dad, asking him to meet Us to discuss how to go about reinstating The Law, but he never responded to Our communications.
We are hoping that, unlike Eddie, you will be open to letting Us help you, and, through you, the people of Gibraltar to survive what is coming.
Failure to return to The Law will mean that everyone will be burned to ashes.
Malachi
4:1 For, behold, the Day cometh, that shall burn like an oven; and all the proud, yea, and all that do wickedly, shall be stubble: and the day that cometh shall burn them up, saith the "I AM" Lord of hosts, that it shall leave of them neither root nor branch (nothing).
4:2 But unto you that fear My name shall the Sun of Righteousness arise with healing in his wings; and ye shall go forth, and grow up as calves of the stall.
4:3 And ye shall tread down the wicked; for they shall be ashes under the soles of your feet in The Day that I shall do [this], saith the "I AM" Lord of hosts.
4:4 Remember ye and return to The Law of Moses My servant, which I commanded unto him in Horeb for all Israel, [with] the Statutes and Judgments.
4:5 Behold, I will send you Elijah the Prophet before the coming of the great and dreadful Day of the "I AM" (Sura 43:61):
4:6 And he shall turn the heart of the fathers to the children, and the heart of the children to their fathers, lest I come and smite the earth with a curse (see verse 1).
Without Our personal help no-one will survive, so please take this VERY seriously, as the Bible is never wrong.
We note that your name is Scottish and that perhaps the body that you are inhabiting was born in Scotland. Your family name means Son of Grail - McGrail - so perhaps you might be interested in the truth about the Holy Grail that no-one has ever understood? Also the truth about who the Scots really are:- http://JAHTruth.net/scotdec.htm
We have a secondary issue that We would like you to resolve for Us, and that is that on the 22/4/2015 your subordinates stole Our silver Jaguar X-type from Rosia car-park and have very foolishly and brazenly compounded their crime, by refusing to return it to Us, for which they will spend Eternity in The Lake of Fire regretting it. Please don't make the same mistake as them.
We are contacting you in the spirit of friendship and wanting to help you to fulfill the Bible prophecies concerning Gibraltar, to make it a light unto the world - http://JAHTruth.net/nsong.htm
Please don't make the same mistake as Eddie, i.e. ignoring Us and Our advice, because time is running out.
We hope to hear from you promptly with a positive response.
Yours truly,
Christ.
RECOMMENDATION 2:
That the Commissioner takes immediate steps to reverse his shunning of EliJAH, by showing at the very least the courtesy of a reply to Christ's previous kind and generous offer to help him and help his police force.
SECTION 3
How safe is Gibraltar and its British Sovereignty?
Prophecy - Divine and Infallible, tells us that: Spain does NOT hold a Key to Gibraltar's extremely "bright" future because The ONLY Key to its future Sovereignty is on The Flag. There is absolutely; undoubtedly and infallibly only ONE Key to Gibraltar's future prosperous and secure self-determination and that is the ONE on its flag, which is there for all to see; except "the blind being led by the blind", naturally.
Gibraltar's Flag, which originated as the Ensign of the Phoenician/British/Israelite Tribe of Gad; who was Jacob/Israel's (Gen. 32:28) eighth son (Gen. 30:11) and was Brit-ish not Jew-ish (Judah/Jew-dah -ish was Jacob's fourth son and one of Gad's half-brothers not his dad); has sadly been deprived of its best colour - The Ruler of The Universe's colour - the colour blue, and He is definitely not amused by its removal (because He considers it to be an insult to Him and His Sovereignty of heaven - The Universe).
To find out why, please continue reading.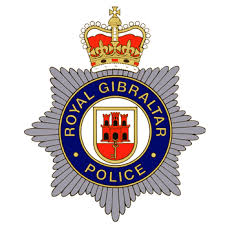 RECOMMENDATION 3:
That the Commissioner, adopts the correctly coloured Gibraltar flag within all the RGP's insignia, as an initial early sign of their allegiance to CHRIST, rather than a fake, criminal queen, who remains foolishly hell-bent on standing in the way of Christ, Whom she publicly claims to serve.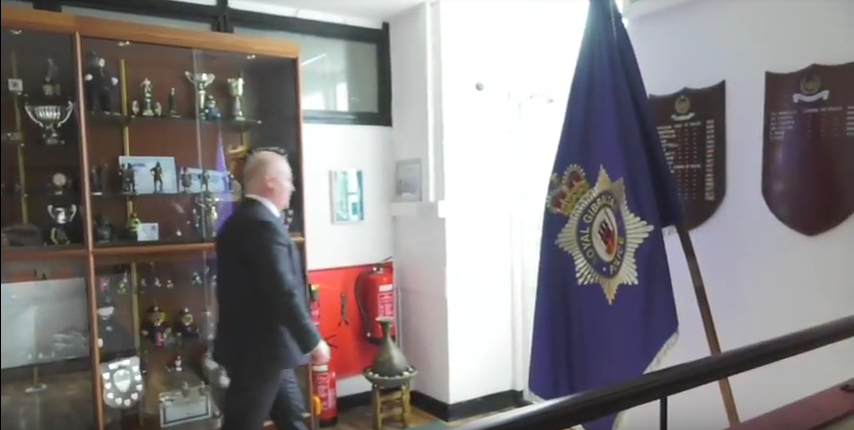 SECTION 4
Gibraltar-Gebal Tariq (The Rock of 'The Night-Visitant' - in Arabic)
The Tariq part of the word Gebal-Tariq, which is also Arabic, means "The Night-Visitant". "The Night Visitant" is Christ - on the second coming, and Christ unequivocally states that Gibraltar is British, but perhaps not quite as you currently perceive it.
http://jahtruth.net/britspan.htm
RECOMMENDATION 4:
That the Commissioner take special note of the great ancestral origins of the Gibraltarian people as revealed by Christ, with particular reference to GAD and the Gadites, as given in the above link, and attune himself properly with what Christ is going to do for GAD, as clearly outlined prophetically below in Deuteronomy Chapter 33 verses 20-21 of The Old Covenant.
Deuteronomy
33:20 And of Gad he said, Blessed [be] he that enlargeth Gad: he dwelleth as a lion, and teareth the branch with the crown on his head.
33:21 And he provided the first part for himself, because there, [in] the position of The Lawgiver, [was he] seated; and he came to the heads of the people, he executed the Justice of the "I AM", and His Judgments with Israel.
SECTION 5
The Munitions of The Rock
"The Fortress of Rock" (Gibraltar) is referred to in the Book of Isaiah (dictated to Isaiah by God and His extra-terrestrial "angels") as being the "place of defence" for "the righteous" where their waters will be sure and bread ("manna" from the space-ship like in Exodus?) shall be given to them and where they shall see the King and the land far off - Israel (Isaiah 33 v 16 & 17) once cleared of its present inhabitants (by "The Reaping") and restored to the way it was in "The Beginning" - (the Land flowing with "Milk and Honey").
http://jahtruth.net/closeenc.htm#Fort
RECOMMENDATION 5:
That the Commissioner accepts the notion of having an exploratory meeting with a JEDI Disciple of Christ. The JEDI in question is a former Principal Intelligence Analyst, of 17 years good standing, best known for speaking truth to power, and refusing to lie for them, over a bogus terror threat construct. One objective of the meeting would be to enlighten the Commissioner on the strategic implications of Isaiah 33 v 16 and 17, for the Royal Gibraltar Police.
Isaiah 33
16 He shall dwell on Sion (2 Esd. 13:35): his place of defence [shall be] the Fortress of Rock: bread shall be given him; his waters [shall be] sure.
17 Thine eyes shall see The King in his beauty: they shall behold the land that is very far off (Israel).
2 Esdras
13:35. But he shall stand upon the top of the mount of gathering (Isa 33:16).
SECTION 6
A Message for Gibraltar from God in The Koran
( Please also see 1 Corinthians 7:22 in the Bible)
"I AM" (God) sets forth a Parable: a CITY enjoying security and quiet, abundantly supplied with sustenance from every place (like Gibraltar used to be): yet was it ungrateful for the favours of "I AM" (and would not keep The Covenant): so "I AM" made it taste of hunger and terror (in extremes) (closing in on it) like a garment (from every side), because of the (evil) which (its people) wrought.
1 Corinthians
7:22 For he that is called in the Lord, [being] a servant, is the Lord's Freeman (Fremen): likewise also he that is called, [being] free, is Christ's servant (JEDI - JE/DI - JE-DI...... - Jesus' Disciple).
7:23 Ye are bought with a price; be NOT ye the servants of men but of God ONLY (First Commandment).
http://jahtruth.net/mesfmgod.htm
RECOMMENDATION 6:
That in the best interests of Gibraltar's security, the Commissioner and his Deputy agree to invite Christ to come and meet up with them, together with his JEDI Disciple, Tony Farrell, if preferred.
SECTION 7
Close Encounters of The Gibraltar Kind
Gibraltar - "The Fortress of Rock" is the collection-point where "the righteous" shall be gathered together to the King - "unto Shiloh (Christ) shall the gathering of the people be" - Genesis 49 v 10 and they will learn, on the Rock, the "New Song" - Isaiah 42 v 10 and 11 - the new "Way of Life" under The Covenant and its Laws and Economic-system which are designed to prevent poverty and the subsequent crime that is caused by deprivation.
http://jahtruth.net/britspan.htm
RECOMMENDATION 7:
That the Royal Gibraltar Police develop Project SERVATOR, by taking steps to learn the NEW SONG from The Ultimate Protector, namely Christ in His Second Coming.
SECTION 8
The Gibraltar Messenger
It is strongly recommended that all in the Royal Gibraltar Police carefully study the eight editions of the Gibraltar Messenger, and follow their advice.
The Complete Eight Editions of The Gibraltar Messenger
http://www.gibraltarmessenger.net/
RECOMMENDATION 8:
That the Commissioner properly attunes himself with the content of each and every one of the eight editions of The Gibraltar Messenger and personally leads from the front, and pro-actively seeks out a meeting with Christ Himself.
CONCLUSION
This SIA has somewhat fittingly arisen directly from a brief encounter inside the Time-Out Café Bar. I say "fittingly" because as Christ wrote in His email, time is almost out for the Royal Gibraltar Police. While this SIA contains specific recommendations for the Commissioner of The Royal Gibraltar Police, every effort has been taken to freely offer-up such help for the potential benefit of not just Ian McGrail himself, but also potentially for all serving employees within his force. Yesterday, during your force's Project Servator show of strength in Main Street, I had the pleasure of meeting a small number of friendly and approachable serving officers, for the first time.
They say first impressions count.
Finally, in the same vein of the rhetoric of Project Servator, this SIA has been duly crafted in an unpredictable, intelligence-led and highly visible manner. Visually stark evidence of this, can be seen, if you take the final time-out and examine the link below on my JAHTALK website.
Commissioners of The Rock
http://jahtalk.thefarrellreport.net/sleuthers-95-theses/commissioners-on-the-rock/
Peace be within you all and upon you all at The Royal Gibraltar Police.
Tony Farrell
Disciple of JAH, Who is Christ in His Second Coming
Former Principal Intelligence Analyst of South Yorkshire Police
P.S. Seeing the above report, are you still willing to consider looking at my CV as indicated yesterday, please?
If so, I will duly oblige.
YOU ARE A SLAVE -
Evasion of God's Authority by the Courts & Crown
On Friday, January 13, 2017, Anthony Dudley, quite plainly rejected God's Authority over Gibraltarians, in his decision to evade one of the most important documents ever submitted to the Courts.
Did he speak for you?
Dudley asserted that man's legislation, not God's Law, rules over Gibraltar, despite the fact that Elizabeth swore and signed the Coronation Oath to maintain God's Law to the UTMOST of her power, and he swore an oath to serve her.
These people's oaths are worthless. They do not keep their promises. They have fancy titles like: "his honour", or "The Right Honourable" in order to deceive you, because, the truth is, that they are lying con-artist criminals, who have NO honour.
He also said that Gibraltarians recognize Elizabeth as queen by popularity. And despite her "popularity"; she is not God's Chosen to be on the Throne of David. That right was taken from the royal line of David (Judah-Pharez), when God inspired, arranged and helped the removal of the Throne/Stone of Destiny, Jacob's Pillar Stone, the Lia Fail, from Westminster Abbey on Christmas Day in 1950. That was your SIGN.
And although Elizabeth signed the Royal Coronation Oath, pictured above, she has given assent to thousands of pieces of fraudulent man-made legislation, which not only circumvents the British Covenant, or contract, with God, but also has enslaved and impoverished the nation. She has become the richest woman on the planet, at everyone else's expense - which is against God's Law (Deut. 17:16) that she swore to maintain to the UTMOST of her power, because you are all now in bondage/slavery to her, just like your ancestors were in bondage to the Pharaohs in Egypt, before you were brought out by God with Moses, and given God's Law - The Torah - the Perfect Royal Law of Liberty, designed to keep you free from slavery.
The truth is that you are all her slaves and you own nothing, except the clothes on your back. Everything else that you work slavishly to buy, belongs to her, when you register it. You pay for a motor-vehicle, and are then "forced" under threat of fine or imprisonment, to register it and that registration means you have "given" it to the Crown. That's why her policy-enforcers the RGP can clamp, tow and hold her property, for you to have to ransom from them/her, with your hard-earned slave-wages. You slave for 25 or more years to buy a home, and when you register it you "give" it to the Crown. When you register the birth of your children, you "give" them as slaves to the Crown, and that's why T.H.E.Y. can take them away from you. You own NOTHING under this devious, secret, fraudulent, insatiable beast-system that you have been brainwashed into accepting.
You were born into bondage (slavery) in a prison that you cannot taste, or see, or touch: a prison, for your mind.
As a Crown slave, or "subject", you are no longer equal, but have "civil status" according to how good and obedient a slave you are, with honours, special privileges, riches and titles for those who serve their slave-masters best. And, if you rebel against your slavery, and want to freely exercise your God-given Rights, they are able, using force, to fine or imprison you, in "Her Majesty's Prisons", at "Her Majesty's Pleasure", because you are her slave. They deny you your God-given Rights, and instead say that you have only "privileges" that you have to earn, and pay for permits, or licenses to exercise, or obtain a passport to travel. All of which you have to keep slaving-away to earn money to buy and periodically renew, keeping your money rolling into their coffers to keep the slave-system going, thus you are paying for your own invisible chains. These expensive pieces of paper can be given, or taken away, at the Crown's "pleasure", so you cannot travel without permission. In order to obtain one you must present your Birth-Certificate - the certificate that proves you were born a Crown slave, freely given into slavery by your own parents, unknowingly and thus fraudulently, when they registered your birth and you as a "gift" to the Crown.
Every solicitor, barrister, Q.C. and judge knows this to be true, and they smile and take your money whilst working against you for the Crown, to maintain your slavery and her obscene wealth. They are all criminals and traitors to God, to you, their own families and themselves, because, ironically, they are also slaves, as are the RGP policy-enforcers, who are the modern day slave-masters who beat you with their truncheons to keep you in line and in slavery. Just like Pharaoh's slave-masters used whips on your ancestors in Egypt.
That is why T.H.E.Y. have legislated and disarmed you, in order to protect themselves, and their extremely lucrative criminal-enterprise, from you, and being brought to God's Justice. T.H.E.Y. say that disarming you is necessary to protect you from criminals, when, in reality, it is T.H.E.Y. who are the criminals. Thus, the reason is the opposite of the Truth - a LIE.
They even have created their own language that you think you understand, but don't, in order to trick and deceive you into believing they work for you, because you pay them, when in reality they work for the Crown against you. Their language is called "legalese" and, although it uses English words and a few Latin words, when they use them the words have different meanings to what you think they mean in normal everyday English. Every one of them KNOWS this, but will NEVER tell you, because they all make lots of money from you in legal-fees and fines.
The entire system is built on nothing but lies and deception, and thus is fraudulent and criminal, run by white-collared criminals - collar and Tie-Fighters who serve Lucifer/Satan's evil empire.
You were given God's Law to keep you free from slavery, but T.H.E.Y. (The Hierarchy Enslaving You) have enacted fraudulent legislation to enslave you and make The Commandments of God and His Perfect Royal Law of Liberty of no effect. Study The Law/Torah and teach it to your children, as God commands you to do on the Sabbath, and reinstate it to set yourselves free. Learn this Truth and the Truth will set you free.
In Dudley's opinion man's legislation is a social construct, that is above God's Law. What he couldn't wrap his head around was that this social construct is against God's Law and prohibited by God. He said he couldn't understand this, when presented with the simple Truth. It's very difficult to get someone to understand something, when their job depends upon them not understanding it.
Deut. 4:2 Ye shall not ADD unto the word which I command you, neither shall ye diminish [ought] from it, that ye may keep the Commandments of the "I AM" your God which I COMMAND you.
God's Law, unlike man's legislation, isn't open for debate. It was set before us as a blessing or curse - Life or Death:
Deut. 11:27 A blessing, if ye obey The Commandments of the "I AM" your God, which I command you this day:
Deut. 11:28 And a curse, if ye will NOT obey The Commandments of the "I AM" your God, but turn aside out of The Way which I command you this day, to go after other gods, which ye have not known.
Other gods include those you falsely and blasphemously call "lords" in the courts; and those politicians you place in office who create legislation for you to live by, instead of God's Perfect Royal Laws of Liberty. Thus, you are cursed with debt-enslavement to the system you uphold. A system which has never stopped creating legislation to fee and fine and enslave you.
That system is our enemy. But when you're inside, you look around, what do you see? Businessmen, teachers, lawyers, (judges, police, politicians) carpenters - the very minds (souls) of the people we are trying to save. But until we do, these people are still a part of that system, and that makes them our enemy. You have to understand, that most of these people are not ready to be unplugged. And many of them are so inert, so hopelessly dependent on the system, that they will fight to protect it.
There are none so blind, as those who, like Mr. Dudley, refuse to see. Open your spiritual-eyes, and see things as they REALLY are (The Way home or face The Fire, Chapter 2).
Do You Choose The Real Stone or the Fake One?
At Elizabeth's Coronation, she was crowned, against God's Will, on a fake Stone of Destiny; and she KNEW it. This stone has been passed off as the original, despite irrefutable proof it is a fake replica. That may not matter to you, even though it should; but it CERTAINLY matters to Almighty God.
There is only ONE WAY and it's HIS WAY. You cannot expect to have God's protection and live by a satanically-inspired, fraudulent system - a system you still refuse to see as the insatiable beast.
Revelation 13:4 And they worshipped the dragon, which gave power unto the beast: and they worshipped the beast, saying, Who [is] like unto the beast? who is able to make war against it?
Who is able to make war against the beast?
Well, it's not anyone who's scared to fight the system. The featured dragon stands outside the Royal Courts of INJustice in the City of London, the City of Dragons/Satan, the Square-Mile, within London. For a better understanding of the dragon and beast, please read the Book of Revelation in the King of kings' Bible.
If you are battling a court case; and are not afraid to fight the system, use the Challenge document found at JforJustice.net/challenge and get everyone else to learn about it and use it too, and hold the judges to The Law, or remove them from office.
You might recall, or learn, that it is Archangel Michael who will defeat the dragon/beast/system. And he is most likely represented by Saint George, who has never been definitely verified; however, the name George means farmer; and what do farmers do when their crops are ripe: they reap. Similarly, God planted a vineyard, and will send His Heir to reap it (Matt. 21:28-44).
Please watch: "Elizabeth To Go" JforJustice.net/e2go
Did you know that God changed Jacob's name to Israel; and Israel passed his name to Joseph's two sons Manasseh and Ephraim, not to Judah or his sons (Gen. 48:16)? The line of Judah was not given the name Israel; however, they would become the kings over the Earth, until the return of Christ. The line of Judah migrated throughout Europe and still maintains royalty. This line is not the same as the Zionists occupying the Holy Land. The ones occupying the Holy Land are mostly Edomite, Ashkenazi and other converts to Judaism, who obey the Talmud, not God's Holy Torah. They are the ones who have stolen the Vineyard, from its rightful owners - the British-Israel peoples.
You can go on believing the lie until it's too late; because Satan and his Synagogue have deceived the whole world (Rev. 12:9); or you can become like little children and learn the Truth for once.
You can start by digesting The Way home or face The Fire; and studying JAHTruth.net.
Another document to read is the important document Anthony Dudley evaded; and where he chose to uphold the original fraudulent charge. It can be read in its entirety below.
Anthony Dudley
Dudley's decision is a blatant example of the fraudulent court system ignoring an argument that it knows that it cannot win. The judges simply cannot refute it. What do they do when they cannot refute something they don't like - they ignore it - even fancifully with a smile as Dudley did.
And while he was cordial, smiling and saying, "people can believe whatever they want" (although they have been deceived into believing and opting for lies over the truth), he completely missed the point. And there is a qualification to believing "your own way" instead of The Messenger. Your way leads you to eternal hell-fire; thus, you can't always believe your-SELF and live, as stated clearly in Scripture.
A people always get the government they deserve, because they become complicit in the evil that they fail to oppose.
So where does this leave you?
Whatever you believe - know that Christ IS King of Gibraltar and it WILL be given Him. When are you going to support Christ, and The Law, instead of the smiling, satanic, criminal usurpers and their evil, fraudulent system that they use to rob and enslave you?
Why don't you get off your backsides and start helping Him, so He can help you?
Acts 5:29 Then Peter and the [other] Apostles answered and said, We ought to obey God rather than men.
You NEED to get together and demand a return to The Law, and tell all of these criminals that enough is enough, before it's TOO late. If YOU don't, YOU will not survive.
Choose wisely, whom you will serve, like Joshua the son of Nun who's Well is at Europa Point, did.
What Dudley ignored can be read in its entirety below.
For more on the case please see: Fraud In the Legal System
This article may be added to periodically, as necessary, so please check back regularly.
The Law and Preparing for War
I know it is difficult, when the sun is shining, and seeing loved-ones, or Gad-ding-about your business, to come to terms with the fact that things are not going to continue as they are, indefinitely, and that you need to be preparing for WW3.
But, whether you like it or not, sooner or later and probably sooner than later, WW3 IS coming, and you NEED to be preparing for it NOW. He who fails to prepare, is preparing to fail. We are in The Times of Noah again, and you all know what happened to everyone who disbelieved Noah, and failed to prepare.
Please read: "The New Jerusalem and Times Of Noah" ‐ www.JAHTruth.net/noah
How can we be certain that WW3 is on the horizon - because the Bible Prophecies tell us so, and the Apostle Simon Peter told you that is the very best source of certainty.
2 Peter 1:17 For he received from God the Father honour and glory, when there came such a voice to him from the excellent glory ("Cloud"), This is My beloved Son, in whom I am well pleased.
1 Peter 1:18 And this voice which came from heaven we heard, when we were with him in the holy mount.
1 Peter 1:19 We have also the more SURE word of Prophecy; whereunto ye do well that ye TAKE HEED, as unto a Light that shineth in a dark place, until the Day dawn, and the Morning Star arise in your hearts:
Also, the Zionist, Masonic Globalists have been planning WW3 since the 1800s, as attested to by Luciferian / Satanist, Brigadier General Albert Pike, Grand Commander of North American Freemasonry, in his book: "Morals and Dogma".
There is NO Law against having a weapon, quite the contrary, only against misusing it. The Law that the British monarch swears to maintain to the UTMOST of their power, at their coronation, states that every man must have a weapon (Num. 1:20; Deut. 1:41; 3:18), contrary to fraudulent man-made legislation (Deut. 4:2; 12:32).
Over generations the traitorous British politicians have colluded to disarm you, castrate and feminize you and leave you defenceless against your enemies, using their fraudulent legislation, whilst you can be shot at in BGTW by armed Maritime Guardia Civil invaders, and are unable to shoot back, using your God-given right to self-defence.
Luke 11:21 When a strong man ARMED keepeth his castle, his goods are in peace:
Luke 11:22 But when a stronger than he shall come upon him, and overcome him, he taketh from him all his weapons wherein he trusted, and divideth his spoils.
Luke 22:36 Then said he unto them, But now, he that hath a purse, let him take [it], and likewise [his] scrip: and he that hath no SWORD (gun today), let him sell his garment, and buy one.
Every man, in prosperous, peace-loving Switzerland has a state-provided military-grade rifle and ammunition in his home, by law, and is trained in its use, and the mighty German Army did not invade little Switzerland during WW2, just as the Japanese did not invade the USA, because, to quote Fleet Admiral Isoruko Yamamoto, Commander-in-Chief of the Imperial Japanese Navy, "There would be a rifle behind every blade of grass."
You NEED to train and equip every male of 20 years old and upward, with a military-grade rifle and ammunition, and the best shots with sniper-rifles, to deter or repel invaders, and defend Gibraltar.
Scripture from The King of kings' Bible: www.JAHTruth.net/kofk-free/Bible
The Maritime Guardia Civil act tough, like bullies, shooting at unarmed people, and ramming their boats. Let's see how brave they are against people armed with selective-fire rifles, and RGPs.
You NEED to use the Sabbath, which is Friday sunset to Saturday sunset, NOT Sunday, or Friday, as God intended, to study and learn The Law that was given to you to protect you from evil, and poverty, and teach it to your children, and abolish all the fraudulent legislation that is used to impoverish, control and enslave you.
Please read: "The Song of Moses and The Lamb" ‐ www.JAHTruth.net/nsong
There are none so hopelessly enslaved, as those who falsely believe they are free - Johann Wolfgang von Goethe.
Christianity falsely teaches that the Sabbath is Sunday, the day of pagan Sun-Worship, just as the Muslim imams wrongly teach that Friday is the Sabbath, because they misinterpret the Koran, which states that Friday is the Day of Gathering, not to pray, but to prepare for the Sabbath, which starts at sunset on Friday.
If you wait until the war starts, it will be too late to prepare for it, so, you NEED to prepare NOW.
Every square inch of ground, including all gardens, flower-beds and window-boxes, need to be converted to growing food, as soon as possible, and start stockpiling food.
If you think, because the USA has just elected Donald Trump, who wants to be friends with Russia, that WW3 won't happen, if THEY don't assassinate him, like JFK and Abe Lincoln, you are most definitely wrong. His election may just delay it long enough for you to prepare for it, but it is coming, as sure as eggs are eggs, and the Muslim prophecies state that it will start in Damascus, in Syria.
Be warned: return to The Law and start preparing TODAY. If you refuse to obey all legislation and abolish it, and return to The Law of Moses, God will protect you, as He has promised under The Covenant, in the Torah, as the USA and UK are defeated, as punishment for NOT keeping it, as is also prophesied.
Please read: "The Four Horsemen of the Apocalypse and The Two Witnesses" ‐ www.JAHTruth.net/horse
I am here to warn and HELP you, not frighten you unnecessarily, but you MUST take this warning SERIOUSLY and ACT upon it. Your lives depend on it - (Malachi chapter 4).
Christ - King of Gibraltar,
a.k.a. Archangel Prince Michael, Commander in Chief of the Heavenly Host,
incarnated (Revelation/ Apocalypse 12:7-8; Daniel 12:1).
Revelation/Apocalypse 12:7 And there was war in heaven: Michael and his angels fought against the dragon (Lucifer); and the dragon fought and his angels,
Revelation/Apocalypse 12:8 And prevailed not; neither was their place found any more in heaven.
Daniel 12:1 And at that time shall Michael [the Archangel] stand up, the Great Prince which standeth for the children of thy people: and there shall be a time of trouble, such as never was since there was a nation [even] to that same time: and at that time thy people shall be delivered, every one that shall be found written in the Book [of Life].
Madrid will always want Gibraltar. Is Gibraltar prepared?
In the Name of God, Most Gracious, Most Merciful.
An OPEN LETTER and AMICUS CURIAE BRIEF to ALL the people who are acting as judges in Gibraltar.
The following documents have been delivered to the Gibraltarian courts, media and others. It is available here on the Gibraltar Messenger for all to read. Court-stamped PDF files are also included.
AMICUS CURIAE BRIEF
The attached affidavit is presented to the court/s as an Amicus Curiae Brief, in the case against Philip Arundel van der Westhuizen and ALL other cases brought before EVERY court in Gibraltar.
I most strongly recommend that it be taken extremely seriously, especially since the Brexit.
The Brexit explained in a nutshell:
Revelation/Apocalypse 18:4 And I heard another voice from heaven, saying, COME OUT of her, MY people, that ye take not part in her sins, and that ye receive not of her plagues (punishment).
18:5 For her sins have reached unto heaven, and God hath remembered her inequities.
Date: 27th June 2016.
Signed: Christ - King of Gibraltar. (JAHTruth.net/britca.htm)
AFFIDAVIT OF TRUTH
Statement of Facts
My name is Crown Prince Michael, also known as Archangel Michael, and the Christ/ Messiah, and I am older than this world (John 17:5), but the human body that I am inhabiting, on this my Second Coming incarnated into a human, inside a new body from the Tribe of Joseph-Ephraim, exactly as prophesied in the Holy Bible, is 68 years of age.
Genesis 49:22 Joseph [is] a fruitful bough, [even] a fruitful bough by a well; [whose] branches run over the wall:
49:23 The archers have sorely grieved him, and shot [at him], and hated him:
49:24 But his bow abode in strength, and the arms of his hands were made strong by the hands of the mighty [God] of Jacob; (from THERE [is] The Shepherd, The [Corner] Stone of Israel:) (1 Cor. 10:4; Daniel 2:34-5; 45).
Not from Judah, like the previous incarnation.
I am the lawful owner of this entire world, and I own it and everything pertaining to it, including all the human bodies that I created, and the Beings/Souls locked within them, who are my condemned prisoners on this prison-planet.
http://thewayhomeorfacethefire.net
The following quotes from the Holy Bible and Holy Koran are proof of the fact that I own everything.
1. Exodus 9:29 And Moses said unto him, As soon as I am gone out of the city, I will spread abroad my hands unto the "I AM" [and] the thunder shall cease, neither shall there be any more hail; that thou mayest know how that the earth [is] the "I AM"'s.
2. Exodus 19:5 Now therefore, if ye will obey My voice indeed, and keep My Covenant, then ye shall be a peculiar treasure unto Me above all people: for all the earth [is] Mine:
3. Deuteronomy 10:14 Behold, the heaven and the heaven of heavens [is] the "I AM"'s thy God, the earth [also], with all that therein [is].
4. Joshua 3:11 Behold, the Ark of the Covenant of the Lord of all the earth passeth over before you into Jordan.
5. Psalm 24:1 <A Psalm of David.> The earth [is] the "I AM""s, and the fullness thereof; the world, and they that dwell therein.
6. Psalm 47:2 For the "I AM" Most High [is] terrible; [He is] a great King over all the earth.
7. Psalm 50:12 If I were hungry, I would not tell thee: for the world [is] Mine, and the fullness thereof.
8. Psalm 89:11 The heavens [are] Thine, the earth also [is] Thine: [as for] the world and the fullness thereof, Thou hast founded them.
9. Haggai 2:8 The silver [is] Mine, and the gold [is] Mine, saith the "I AM" Lord of hosts.
10. Zechariah 14:9 And the "I AM" shall be King over all the earth: in that Day shall there be one "I AM", and His name One [not a trinity].
11. 1 Corinthians 10:26 For the earth [is] the Lord"s, and the fullness thereof.
10:28 But if any man say unto you, This is offered in sacrifice unto idols, eat not for his sake that showed it, and for conscience sake: for the earth [is] the Lord"s, and the fullness thereof:
12. Sura 43:61 And (Christ the Mahdi) shall be a sign (for the coming of) the hour (of judgement). Therefore have no doubt about the (hour), but follow ye Me: this is the straight way.
13. Sura 16:52 To Him belongs whatever is in the heavens and on the earth, and to Him is duty due always: then will ye fear other than The I AM?
14. Sura 20:6 To Him belongs what is in the heavens and on earth, and all between them, and all beneath the soil.
15. Sura 23:88 Say. "Who is it in whose hands is the governance of all things, who protects (all) but is not protected by any)? Say if ye know".
23:89 They will say, "(It belongs) to "I AM"." Say: "Then how are ye deluded?"
16. Sura 42:4 To Him belongs all that is in the heavens and on the earth: and He is Most High, Most Great.
17. Sura 42:53 The way of The "I AM", to Whom belongs whatever is in the heavens and whatever is on earth. Behold (how) all affairs tend towards, "I AM".
I have given Philip van der Westhuizen my permission to live in my Kingdom of Gibraltar, and assist in educating the people of Gibraltar about their future, and that they must return to keeping My Law, in my Kingdom of Gibraltar.
I have NOT given permission for the formation of ANY political party, because they are prohibited in The Law, nor have I given permission for them to use any of my property.
Deuteronomy 5:32 Ye shall observe to do therefore as the "I AM" your God hath commanded you: ye shall not turn aside to the right hand (GSD) or to the left (GSLP, etc.).
5:33 Ye shall walk in all the ways which the "I AM" your God hath commanded you, that ye may live, and [that it may be] well with you, and [that] ye may prolong [your] days in the land which ye shall possess.
Matthew 12:25 And Jesus knew their thoughts, and said unto them, Every kingdom divided against itself is brought to desolation; and every city or house divided against itself shall not stand:
The people who have the audacity to call themselves lords, and thus falsely claim my title, and allow others to blasphemously call them lord or your lordship, in direct contravention of my instructions in the Book of Judges, the Book of Isaiah and the Gospel of Matthew, are not lords, nor judges, but are frauds and have no authority to judge anyone, or decide any matter.
Judges 2:11 And the children of Israel did evil in the sight of the "I AM", and served lords:
2:12 And they forsook the "I AM" God of their fathers, which brought them out of the land of Egypt, and followed other gods, of the gods of the people that [were] round about them, and bowed themselves unto them, and provoked the "I AM" to anger.
8:33 And it came to pass, as soon as Gideon was dead, that the children of Israel turned again, and went a whoring after lords, and agreed to make lords their gods.
8:34 And the children of Israel remembered not the "I AM" their God, Who had delivered them out of the hands of all their enemies on every side:
10:6 And the children of Israel did evil again in the sight of the "I AM", and served lords, and Ashtaroth, and the gods of Syria, and the gods of Zidon, and the gods of Moab, and the gods of the children of Ammon, and the gods of the Philistines, and forsook the "I AM", and served not Him.
10:10 And the children of Israel cried unto the "I AM", saying, We have sinned against Thee, both because we have forsaken our God, and also served lords.
Isaiah 42:8 I [am] the LORD: that [is] My name: and My glory I will not give to another, neither My praise to graven images.
2:11 The lofty looks of man shall be humbled, and the haughtiness of men shall be bowed down, and the "I AM" alone shall be exalted in that day.
2:12 For the day of the "I AM" Lord of hosts [shall be] upon every [one that is] proud and lofty, and upon every [one that is] lifted up; and he shall be brought low:
5:24 Therefore as the fire devoureth the stubble, and the flame consumeth the chaff, [so] their root shall be as rottenness, and their blossom shall go up as dust: because they have cast away The Law of the "I AM" Lord of hosts, and despised the Word of the Holy One of Israel.
Matthew 23:12 And whosoever shall exalt himself shall be abased; and he that shall humble himself shall be exalted.
The people who call themselves judges are doing so fraudulently, for the following factual reasons:-
1. They have sworn to serve a criminal who falsely claims to be a queen, as proven in my Challenge Document and Exhibits that are downloadable from (http://JforJustice.net/challenge ; http://JforJustice.net/download/Challenge.zip) and thus, like her, have committed and are committing fraud, and fraud vitiates everything. Therefore their Judge's Oaths are ultra vires and null and void, and they are fraudulently impersonating judges.
2. In swearing to serve this criminal usurper of my Throne, they have broken the First Great Commandment to serve ONLY God, and ludicrously and foolishly asked God to help them break His Own First Commandment, thus also nullifying their Judge's Oath (Mark 12:29-30).
3. They are breaking The Law, by impersonating judges and administering fraudulent legislation that is prohibited by The Law (Deuteronomy 4:2; 12:32), and making and administering false judgements and sentences in contravention of The Law.
4. They are refusing to administer The Law, Judgements and Sentences that are commanded by The Law, of which the refusal to do so is a capital offence carrying the death-penalty, under The Law that the Monarch swears to maintain to the utmost of their power, in the Coronation Oath.
Deuteronomy 17:10 And thou shalt do according to The Sentence, which they of that place which the "I AM" shall choose shall show thee; and thou shalt observe to do according to all that they inform thee:
17:11 According to The Sentence of The Law which they shall teach thee, and according to the Judgment which they shall tell thee, thou shalt do: thou shalt not decline to do The Sentence which they shall show thee, and turn not away from it [to] the right hand, nor [to] the left.
17:12 And the man that will do presumptuously, and will not hearken unto the priest that standeth to minister there before the "I AM" thy God, or unto the judge, even that man shall die: and [thus] thou shalt put away the evil from Israel.
17:13 And all the people shall hear, and fear, and do no more presumptuously (in thinking they are a law unto themselves).
5. The pretended judges and their fraudulent queen are therefore guilty of capital crimes, and under The Law should all be executed.
6. No lawbreaker can be a law-enforcer.
Therefore they are neither lords nor judges, but are criminals impersonating judges, and have NO authority or jurisdiction to order anyone to do anything, and have NO authority to give any order to have my Disciple Philip Arundel van der Westhuizen removed from Gibraltar, because he has my permission to be in my Kingdom of Gibraltar, for the purpose I have expressed herein.
The people who falsely claim to be judges, and everyone who refuses to repent, kneel and swear allegiance to, and to obey my Father/God The Ruler of The Universe and me His Eldest Son their Rightful King, and keep Our Law, will spend eternity in The Lake of Fire and Brimstone, regretting their refusal to do so.
I therefore strongly advise you to humble yourselves, repent, swear allegiance to my Father and me, and serve Us and help Us to reinstate The Perfect Royal Law of Liberty, for the good of everyone. If you want me to give my authority to act as judges in my Kingdom, you must first swear as outlined above, and to reestablish and administer ONLY My Law.
Isaiah 42:21 The "I AM" is well pleased for His Righteousness' sake; He will magnify The Law, and make [it] honourable (Deut. 33:21). Now read and digest Psalm 2:10-12, and pay heed to and obey it.
I do solemnly swear and affirm before my Father, Almighty God, that the foregoing is the truth, so help me Father/God, Your Eldest Son and heir.
Date: 27th June 2016.
Signed: Christ - King of Gibraltar. (JAHTruth.net/britca.htm)
Scripture from the King of kings' Bible.
Vote for Christ and God's Perfect Law of Liberty
H.M.'s Chief Injustice Mr. Anthony Dudley
Dear People of Gibraltar and The Campo de Gibraltar.
You are being ruled and policed by criminals and traitors masquerading as government and law-enforcement, and that includes H.M. Courts of Injustice, supervised by H.M.'s Chief Injustice Mr. Anthony Dudley, who is fraudulently masquerading as a judge.
Police, courts and government are registered companies trading for profit and working together to steal money from the law-abiding public that they falsely "claim" to serve.
In order to maximize their profits, as ALL commercial companies strive to do, they need to keep finding new ways to steal/extort more and more from the people, and that is where the politicians come in, to fraudulently legislate to criminalise more and more things that are, in fact, perfectly lawful, and you intuitively KNOW this when you get fined (have your money stolen/extorted) for doing nothing wrong, having harmed no-one. They also legislate to make unlawful and perverted things, that are condemned by God, "legal". Legal does NOT mean Lawful: it means the opposite.
Selling cigarettes and then stealing them from their lawful owners, along with their motor vehicles, like the fast-launches and RIBS that were stolen before them, is theft, pure and simple. The cigarettes were purchased perfectly lawfully, and thus lawfully belong to the purchaser. When the police confiscate/steal them and then the courts fine the owners, under fraudulent legislation, adding insult to injury, they are, in reality, stealing them from their lawful owners to maximize their profits and are thus thieves masquerading as law- enforcement.
Likewise with them kidnapping /stealing and towing away people's vehicles; which they have no right to do, or even to touch, unless they are causing an obstruction; then holding the vehicles prisoner for ransom and demanding/extorting money to get them back. This is again, in reality, theft, pure and simple. You all KNOW this, but still accept it. WHY?
They get away with all kinds of theft, by deceiving the public with false, fraudulent and thus unlawful/criminal legislation, into believing that what they are doing is lawful, when in fact it is criminal. This includes parking and speeding fines, wheel-clamping, etc., etc., etc.
They are all criminal organisations masquerading as government and law enforcement. They are the modern equivalent of the people that Jesus condemned:-
Matthew 23:26 [Thou] blind politician, cleanse first that [which is] within the cup and platter, that the outside of them may be clean also.
23:27 Woe unto you, lawyers and politicians, hypocrites! for ye are like unto whited sepulchres, which indeed appear beautiful outward, but are within full of dead [men's] bones, and of all filthiness.
23:20 Even so ye also outwardly appear righteous unto men, but within ye are full of hypocrisy and inequity.
Political parties are prohibited by God, in His Law, because they divide the people and conquer them, whilst giving the false impression that the people have a say in what they do. It is a Punch and Judy Show and theatre to deceive people. God prohibits men from legislating and no-one EVER voted to get fined for speeding or having their property stolen, or kidnapped and held to ransom.
Deuteronomy 5:32 Ye shall observe to do therefore as the "I AM" your God hath commanded you: ye shall not turn aside to the right hand (GSD/PP) or to the left (GSLP/PSOE).
5:33 Ye shall walk in all the ways which the "I AM" your God hath commanded you, that ye may live, and [that it may be] well with you, and [that] ye may prolong [your] days in the land which ye shall possess.
Matthew 12:25 And Jesus knew their thoughts, and said unto them, Every kingdom divided against itself is brought to desolation; and every city or house divided against itself shall not stand:
You cannot be free and governed by men: the two things are diametrical opposites from each other. Only this Truth can set you free.
John 8:22 Then said Jesus to those Jews which believed him, If ye continue in my Word, [then] are ye my disciples indeed;
8:23 And ye shall know the Truth, and the Truth shall make you free.
It is the same in Spain and the police, courts and politicians in both countries are harming the local populations to protect their rich sponsors and their business interests, both in Madrid and Gibraltar, to the detriment and impoverishment of the local people.
They deceive with fancy talk about "free-trade", but it is only free for the rich parasites, who feed off the people's backs, blood, sweat and tears.
God gave you His Universal Law in the Torah/Pentateuch - the Books of Moses: Genesis, Exodus, Leviticus, Numbers and Deuteronomy - to protect you from criminals. That is why you NEED to return to it and enforce it against these criminals, to set yourselves free from their evil clutches.
Malachi 4:1 For, behold, the Day cometh, that shall burn like an oven; and all the proud, yea, and all that do wickedly, shall be stubble: and the day that cometh shall burn them up, saith the "I AM" Lord of hosts, that it shall leave of them neither root nor branch (nothing).
4:2 But unto you that fear My name shall the Sun of Righteousness arise with healing in his wings; and ye shall go forth, and grow up as calves of the stall.
4:3 And ye shall tread down the wicked; for they shall be ashes under the soles of your feet in The Day that I shall do [this], saith the "I AM" Lord of hosts.
4:4 Remember ye and return to The Law of Moses My servant, which I commanded unto him in Horeb for all Israel, [with] the Statutes and Judgments.
4:5 Behold, I will send you Eli-JAH the Prophet before the coming of the great and dreadful Day of the "I AM" (Sura 43:61):
4:6 And he shall turn the heart of the fathers to the children, and the heart of the children to their fathers, lest I come and smite the earth with a curse (see verse 1).

You need to stop voting for politicians and what you think is the lesser of two evils, because the lesser of two evils is still EVIL, and voting for political parties is AGAINST The Law.
You also NEED to challenge their jurisdiction and authority, in order to stop these criminal organisations from stealing from and impoverishing you, and vote for God and Christ the Messiah to rule and institute God's Perfect Royal Laws of Liberty in Gibraltar and The Campo, uniting both together instead, or you will ALL burn, soon.
See: JforJustice.net/challenge and JforJustice.net/download/Challenge.zip
You should all write on the ballot papers, in the upcoming election, "none of the above" and write that you vote for Christ and God's Perfect Laws of Liberty instead.
If you need any help with fighting for your rights please email - Muad-Dib@JforJustice.net.
All of these traitors know, but will never tell you, that when you 'register' (from Latin rex, reg- 'king') anything you voluntarily hand over ownership of it to the Crown/State. The solicitors and barristers and judges know this, and tell you that you have to register your car, house, boat, and even your children, registering their birth and getting a Birth Certificate.
This is fraud on a gigantic scale and they ALL are party to it and thus criminals and traitors.
When you register the birth of your child you hand over "ownership" of your child to the Crown/State, and that is why they can take "your" (their) children from you, using their Social Services any time they like, because you were tricked into registering them.
The police trick you into entering into a contract with them, without knowing you are doing so, but they know. When they ask you if you "understand", they do not mean do you comprehend what they are saying, they mean do you stand under (under-stand) their authority, thus placing themselves above you, with you agreeing to enter into a contract with them on that basis, so that they can prosecute and fine you (steal your money).
They use their own fraudulent language called legalese, that uses English words that you think you understand when you don't, because in legalese they have a different meaning in order to deceive you. These traitors ALL know this and that they are deceiving you and tricking you into giving them your money and property.
Any contract has to have full disclosure, and be entered into voluntarily, in full knowledge of and agreement to its terms, or it is unlawful and cannot be enforced, but they use deception to trick you into accepting their contract without disclosing the terms, or that you are entering into contract with them. This is fraud and criminal. Fraud nullifies everything. They are criminals in uniforms and wigs.
Link: The Founding Fathers Are Traitors! "To Ourselves and Our Posterity" Meant Them, Not Us!
Gibraltar's Choices on War Strategies & God's Protection
Russian Sukhoi-Su-35
Dear Gibraltarians,
As always, We hope this finds you well, in good spirit and having a good day.
It appears that the government is determined to ignore, or reject, good advice, and defiantly put your future in jeopardy. We previously warned you about your vulnerability to missile/bomb attacks upon your water-supply, in the coming world war, because of the desalination-plant's location on the North Mole, out in the open for all the world to see. So, what does the government do? As well as dismantling, instead of repairing, the massive water-catchment area, it decides to locate the new generating-station on the North Mole, as well; instead of safely inside the Rock, in place of the derelict WW2 generators. So that it too can easily be attacked and destroyed, thereby leaving Gibraltar without both power and water. Does that make any sense to you? Only in a lunatic asylum would people be so foolish. Welcome to Planet Earth, the Universe's Lunatic Asylum.
The question NEEDS to be asked: Is the government doing all of this on purpose?
We have been telling you, for more than twenty years, that the UK government will continually say that they will protect you, whilst doing the opposite. Surely it must be obvious by now, that We alone have told you the truth, with the UK doing nothing to stop Spanish military incursions, both by sea and now air. What will it be next? APCs and Tanks?
Will the UK government just pass it off, as doing no harm, like the sea and air incursions? Oh, no need to worry, the Spanish APCs and tanks are just on a friendly sight-seeing tour. What exactly will it take, before the UK PHYSICALLY stops them? We have told you what to do to force the UK to act, whilst they are still able to, but, as usual, you ignore Our advice.
Chinese J-31
However, relying on the UK or the USA in the long-term is foolish, because, for their and your defiance of God, and rejection of the Sovereignty of Christ, they are going to lose WW3, as is prophesied in Revelation 11 about the Two Witnesses - Britain and America - the TRUE Israel. Log on to JAHTruth.net/horse; and JAHTruth.net/britca. You are Israelites too: JAHTruth.net/gibfg: and JAHTruth.net/britspan.
Christ, not Elizabeth, is your rightful Sovereign.
God has always defended them and you, until now, because of His Promise to Abraham, but that promise has already been fulfilled, so has now run out, and He is going to punish them and you for your idolatry, and defying Him, rejecting Christ as your King, breaking His Commandments and your Covenant with Him, to be His demonstration people to the rest of the world, about how wonderful it is to live under His Commandments and Perfect Royal Law of Liberty, and His Blessings that accompany obedience. Log on to - JAHTruth.net/abraham; and JAHTruth.net/blescur.
During the previous two World Wars and previous wars, He sank the Spanish Armada that Sir Francis Drake mopped-up after, and gave the British and Americans the best weapons' technology with which to defeat their enemies, but now He is giving it to Russia, China and Iran instead, so that they will win WW3, and the UK and USA will lose.
Look at the Joint Strike Fighter F35 piece of ridiculously expensive junk, and compare it to the amazing Russian and Chinese planes. The American designer of the F15 and F16 has said that the F35 is the worst plane the US has ever designed, and the F22 is not much better. See this weblink: sploid.gizmodo.com/the-designer-of-the-f-16-explains-why-the-f-35-is-such-1591828468.
Here's what the UK Daily Express wrote about it: www.express.co.uk/news/uk/547086 /RAF-s-150million-stealth-fighter-jet-could-shut-down-after-overheating-fears.
Here's what the impartial Australians have said: www.youtube.com/watch?v=27qdB1D0s9M.
N.B. Unbiased American report: www.youtube.com/watch?v=sNRMO70Hw0s.
Americans Have Spent Enough Money On A Broken Plane To Buy Every Homeless Person A Mansion
Further reading: The F-35 Wont Be Able To Fire A Shot Until 2019 Due To The Latest Problem
Snowden leak: Snowden leak reveals massive size of F-35 blueprints hack by China
See also: New US fighter jet on course to becoming "one of history's biggest white elephants"
No, the F-35 Cant Fight at Long Range, Either - Stealth fighter cant see, shoot or survive: https://medium.com/war-is-boring/no-the-f-35-can-t-fight-at-long-range-either-5508913252dd
Here is almost an admission by the Americans that they will lose: sputniknews.com/world/20150412/1020791573.html
The F-35 Just Catches on Fire Sometimes - And the Pentagon knew that for years: https://medium.com/war-is-boring/the-f-35-can-just-catch-on-fire-sometimes-eecce430792b"
After Shocking Failures, F-35 Could be Long Gone by New Defense Chief: http://sputniknews.com/military/20150713/1024535149.html
F-35 Fighter Jet More Problematic and Costly than Ever Imagined - Air Force Secretary: http://www.veteranstoday.com/2015/07/30/f-35-fighter-jet-more-problematic-and-costly-than-ever-imagined-air-force-secretary
US May Forget About Air Supremacy With F-35: Future Belongs to Russian Jets: http://sputniknews.com/military/20150816/1025799961.html
Indian Air Force 'beats RAF 12-0 in training exercise' - using Russian-designed jets: http://www.independent.co.uk/news/uk/home-news/indian-air-force-beats-raf-120-in-training-exercise--using-russiandesigned-jets-10444466.html
There's also the ridiculously expensive USN stealth ship that some say they dare not take out to sea, because it would capsize and sink.
Then there's the recent incident in the Black Sea, where the latest Aegis Class missile destroyer, the USS Donald Cook (Donald Sitting Duck would be more appropriate) was left helpless by a single unarmed Russian SU-24 tactical fighter-bomber, that disabled all its defenses and teased and mocked the crew; who were mucking themselves; by flying over it 12 times, showing that it could easily have sunk it, and them. Many of the sailors then resigned from the US Navy. See www.voltairenet.org/article185860.html.
Russias New Super Weapon Can Switch Off Electronics On Guided Missiles: http://www.thetruthseeker.co.uk/?p=118271
This doesn't even countenance the amazing Russian Sunburn Onyx/Yakhont supersonic anti-ship missiles and Shkval torpedoes. See: www.globalsecurity.org/military/world/russia/moskit.htm and www.globalsecurity.org/military/world/russia/shkval.htm.
All about Russia's Newest Advanced Stealth Fighter - Documentary: http://www.thetruthseeker.co.uk/?p=117041
Here's China's equivalent of Russia's most deadly fighter jet: http://www.thetruthseeker.co.uk/?p=114770
Another independent opinion - The U.S. Navy is Risking Everything on a Fatally Flawed Technology: http://www.thetruthseeker.co.uk/?p=116422
When WW3; that the banksters are desperate to start; gets underway, your friendly neighbour Madrid will be on the opposing and winning side. Then what will you do? See: JforJustice.net/banksters.
If you want to survive, you NEED to study, digest, and LIVE: "The Way home or face The Fire" - thewayhomeorfacethefire.net, the title of which is self-explanatory, and become a light to the World, in fulfillment of the vision that a lady from the Bethel church had, twenty years ago. The vision she was given was of a large diamond (Christ - the Light of the World) in Gibraltar giving off a beautiful light, but with leaves continually falling over it (Him), trying to cover it (Him) up, until it (He) finally threw off those leaves and lit up the whole world from Gibraltar.
Russian Stealth-Fighter Sukhoi T-50
Your ONLY hope, as We've been telling you, is to stop your idolatry and start to listen and do as you have been commanded to do by God, and return to His Law, if you want His protection, because the UK and USA will be defeated, and unable to help even themselves, never mind you. No-one else is going to be able to help you. No-one! See JAHTruth.net/horse.
We have been telling you this for more than twenty years, but you obstinately ignore and reject Our advice, in favour of the sweet sounding lies and delusions from politicians and so-called priests, also exactly as prophesied in the Bible, and as the lady was shown symbolically in the vision.We have noticed that, also in defiance of Our advice, over the last twenty years, more and more Gibraltarians are speaking Spanish, in preference to English. What message does that send to Madrid? That they are winning! Like I said, what common-sense can you expect in a lunatic asylum?
Are you ready to change your ways yet, and accept Our help? You're running out of time.
We have already given you some solutions in previous editions. You need to study and apply them.
Victory is Always the Goal of War
Russian and Chinese military doctrines rely on willingness to sacrifice millions of their own citizens, for the sake of victory. Their generals obviously have to consider the possibility of war with the Western nations. Russia and China have to work with the understanding of their specific conditions, and their conditions dictate that a victory means using nuclear weapons, since using only conventional weapons is unlikely to result in a quick and decisive victory. The overall propensity of Eastern weapons' systems to use fewer electronics; the high probability of using nuclear weapons on the tactical level; and the fielding of direct-energy weapons; give Eastern militaries an advantage over the Western nations. Russian military doctrine is very explicit about using nuclear weapons. Russian weapons' systems (which are typically copied by China) are designed for nuclear war, which means relying as little as possible on electronics, because of the EMP-effect of nuclear weapons. Western weapons' and logistics' systems have become increasingly dependent on electronics, since the end of the Cold War, making them more vulnerable to nuclear and direct-energy weapons. Russia is also actively fielding weapons designed to specifically target electronics, like those used to disable the USS Donald Cook. The military advantage afforded to Russia and China by using nuclear weapons; combined with the fact that these nations have already decided the human costs of such a war to be acceptable; mean that the risk of nuclear confrontation, in response to Western aggression, is increasing.
Uniting The Campo Under Christ Not Madrid
In the previous editions you have been given warnings and advice about the future, and what NEEDS to be done, with no noticeable response from you - only the usual deafening wall of silence.
We told you that only actions and not more empty words can fix the frontier problem, but still the worthless talking goes on regardless: as it has for decades. The action that needs to be taken is for the Gibraltarian people to take matters into their OWN hands, instead of waiting endlessly for the UK to act, when the UK is purposefully assisting Madrid, by its deliberate inaction, whilst saying it defends Gibraltar, but in reality doing the opposite. It's not in their financial interests to help Gibraltar to be successful.
The Banksters in the financial square-mile in London, called the "City of London", sees Gibraltar's financial sector as direct competition that it needs to destroy, in order to maximize its own profits. This we told you decades ago, but you chose to ignore our advice.
Whilst we are totally against gambling; because it is immoral, harmful and unlawful; we are aware that it is Gibraltar's largest employer and most lucrative business, and the "City of London" therefore will attack it, by getting their puppet bought-and-paid-for politicians to pass fraudulent legislation in order to cripple it, and boost their own profits. It is naïve in the extreme to think that they would do otherwise.
See JforJustice.net/banksters.
The incursions into British Gibraltar's Territorial Waters (BGTW) by Spanish military, customs and other vessels of the state, are; under international maritime law; an act of war, and need to be treated as acts of war. When they enter BGTW, and open fire with weapons on people in BGTW, there can be absolutely no doubt that such behavior is an act of war, but the UK just wags its finger and complains to people in Madrid who laugh at their words and lack of action, and that only encourages Madrid to escalate the war.
Gibraltar needs to have its own Special Boat Squadron and to warn Madrid that it considers any incursion an act of war and aggression, and the next time it occurs they will be fired upon, and if necessary arrested, or sunk. Force is the ONLY thing that Madrid understands, otherwise they would not be using it themselves against Gibraltar. Hopefully the threat will be enough to deter them, without any loss of life.
If the UK is not willing to defend BGTW, then the Gibraltarian people must do it themselves. The time for talking is long gone. A volunteer force Special Boat Squadron should be created and armed with suitable weaponry sufficient to deter any further incursions.
Madrid may try to close the border and Gibraltar must be prepared for that, but it will hurt the Spanish workers and the Campo's economy more than Gibraltarians, and thus they must become Gibraltar's allies in the war with Madrid.
Approximately 7,000 - 10,000 Spanish workers work in Gibraltar, and if they and their dependents surround the border-guards on their side of the frontier and disarm them, and then send them packing to Madrid, where they belong, whilst Gibraltarians in similar numbers support them on the Gibraltar side of the frontier; so there is no escape for the guards; then people will be able to pass freely, as they should be able to, to their places of work, and of course tourists can too.
Yes, this will escalate the conflict and should force the UK to act to defend Gibraltar militarily, IF Madrid makes it necessary, instead of with more empty words and pathetic mummy's boy finger-waving. There will be some temporary inconvenience, but you can't make an omelet without breaking some eggs.
You NEED to escalate things, to force the UK to act.
For our light affliction, which is but for a moment, worketh for us a far more exceeding [and] eternal weight of glory - 2 Corinthians 4:17
We know there are many brave Gibraltarians who are not afraid of the Maritime Guardia Civil (GC) and being shot at, for doing nothing wrong: just delivering goods to La Linea. The GC are protecting big business in Madrid, whilst harming the people of the Campo. The UK, as usual, helped them and stabbed Gibraltar and the Campo in the back, with fraudulent new legislation and stealing the delivery people's boats and livelihoods.
The EU is SUPPOSED to be about free-trade, but the reality is that it is only about free-trade for the rich people, who own the politicians in Madrid and elsewhere and who give licenses only to their rich friends - like the Palomas' situation in Gibraltar. Thus their free-trade is licensed and NOT free, and harms the little-people, who are just trying to make a living and feed their families. That lie and hypocrisy MUST stop. You don't NEED a license in a FREE and responsible society.
The people of the Campo need to join together with the Gibraltarians and unite the whole Campo with their Gibraltarian cousins, with everyone at peace, free and prosperous under the rule of Christ, your shared rightful King, rather than the evil Elizabeth and Juan Carlos.
You cannot rely on the UK, because the UK and USA (REAL Israel) are going to lose WW3, as a punishment for rejecting Christ's Sovereignty; not keeping The Covenant (contract with God/Allah); God's Law and being His demonstration people to the rest of the world, to get them also to keep The Covenant and God's Perfect Royal Law of Liberty.
REAL ISRAEL, 2 Witnesses & 4 Horsemen - jahtruth.net/horse
Everybody who refuses to return to His Law will be burned to ashes, by Him, and their souls will spend eternity in the Lake of Fire. You've been warned and will now have NO excuse for not doing so.
KING OF KINGS' BIBLE - BOOK OF MALACHI
4:1
For, behold, the Day cometh, that shall burn like an oven; and all the proud, yea, and all that do wickedly, shall be stubble: and the day that cometh shall burn them up, saith the "I AM" Lord of hosts, that it shall leave of them neither root nor branch (nothing).
4:2
But unto you that fear My name shall the Sun of Righteousness arise with healing in his wings; and ye shall go forth, and grow up as calves of the stall.
4:3
And ye shall tread down the wicked; for they shall be ashes under the soles of your feet in The Day that I shall do [this], saith the "I AM" Lord of hosts.
4:4
Remember ye and return to The Law of Moses My servant, which I commanded unto him in Horeb for all Israel, [with] the Statutes and Judgments.
4:5
Behold, I will send you EliJAH the Prophet before the coming of the great and dreadful Day of the "I AM" (Sura 43:61):
4:6
And he shall turn the heart of the fathers to the children, and the heart of the children to their fathers, lest I come and smite the earth with a curse (see verse 1).
Study The Way home or face The Fire at thewayhomeorfacethefire.net and let's get started building Christ's Kingdom on Earth, for the benefit of all mankind.
Free Energy, Radiation, War & Water - Is Gibraltar Prepared?
These are all connected as events play out on the world stage.
During the next phase of WW3; that the Illuminati Nazi Banksters are itching to start, because they have no way to fix the world economy and want to exterminate 95% of the world's population via wars, vaccines, Chernobyl, the Gulf of Mexico Deepwater Horizon and Fukushima Daiichi disasters, etc., according to their Georgia Guide-Stones monument, the U.N. Agenda 21 document and Microsoft's Bill Gates, so they will end-up owning the whole world; Gibraltar will become extremely vulnerable, unless very serious and concerted efforts are taken right NOW to eliminate those obvious vulnerabilities.
The first very obvious vulnerability is the desalination plant located completely exposed like a sitting-duck on the North Mole, where it is extremely vulnerable to a bomber or missile-attack, and, without adequate water, Gibraltar will be uninhabitable.
The second most obvious vulnerability is the power generation that depends upon diesel-fuel, or even the new generator that is being proposed to run on both diesel and gas, neither of which Gibraltar has, without importing it. When THEY (The Hierarchy Enslaving You) eventually attack Iran and Iran blocks the Strait of Hormuz, and major oil-fields also get destroyed, there will be very little diesel and gas available, and what is available will be at an unaffordable cost. Gibraltar will then become uninhabitable, without power and water.
Since the late 1800s there have been free-energy (yes free) inventions that are fuel-less and have been suppressed by the big oil people like the evil Bush family who, according to Nazi SS Sturmbannführer Otto Skorzeny, had Nikola Tesla murdered after stealing his free-energy inventions and the evil Elizabeth Battenberg/Windsor who it is claimed owns BP and half of Anglo- Dutch Shell Oil.
Nikola Tesla the inventor of Alternating Current electricity wanted to give electrical free-energy to the whole world from his Wardenclyffe Tower. The bankster J. P. Morgan initially financed him, until Morgan realized that he would not be able to put a meter on it and charge people for it, so he had the tower destroyed. The Nazi Bush family (real name Scherff) - Prescott who was Tesla's secretary and George H. W. "Poppy" (Opium) Scherff/Bush his son - stole Tesla's inventions and patents and Hitler's personal body-guard Otto Skorzeny mentioned previously and SS General Reinhard Gehlen murdered Tesla, according to Otto Skorzeny's death-bed confession.
Since Tesla there have been many others, like Stanley Meyer who invented a way to run cars on water, and they too have been murdered, by agents of the big oil companies. In order to make Gibraltar much less vulnerable and also very prosperous you need to put extreme pressure on the government to sponsor, and you all to create a safe-haven for free-energy inventors to develop free energy devices, to free Gibraltar from its dependency on imported oil and gas. The energy from those devices, as well as powering your homes and vehicles for free, can then also be used to power desalination water-makers within the Rock, so that they are not vulnerable to attack. These free- energy devices can also be manufactured and exported creating employment and profits for the economy.
You also; since Fukushima Daiichi is pouring 300 tons of radioactive water into the ocean every day, and has been for more than 2 years and all of the world's oceans are linked; need to start testing the water for radiation.
Food Chain Catastrophe: Emergency Shut Down Of West Coast Fisheries: "Populations Have Crashed 91 Percent": http://www.shtfplan.com/headline-news/food-chain-catastrophe-emergency-shut-down-of-west-coast-fisheries-populations-have-crashed-91-percent_04162015
You need to do ALL of this as soon as possible.
Is God An Extra-Terrestial?
Photo taken March 4, 1990 -
A Scout-ship?
It is very simple to prove that the God of the Bible is an Extra-Terrestrial. The God of the Bible does not live on Earth. That makes God, by definition, an Extra-Terrestrial, but not only that, He is the Ruler of The Universe and His oldest son Christ told us clearly that he is not of this world.
If you don't know that God and Christ are Extra-Terrestrials then it's time to reconsider what you think you know about God and Christ. God being an Extra-Terrestrial is a very basic fact, and there is a lot that you almost certainly don't know about Him. This is important, because there is a very powerful Extra-Terrestrial out there and He will decide whether you live or die. We are acting as messengers to warn people who do evil and to bring good news to those who do good. You can ignore us, but you will not be able to ignore God and His Army when They come. And if you do ignore us, then chances are you will be in very bad shape when They do come.
You might have thought that this is going to be some kind of a religious thing, but think again. We're telling you about Extra-Terrestrials that are coming to execute bad people and save others. Religions are about rituals and donating money. That's not what is happening here, so put your assumptions aside and pay attention. No human affair can match the importance of Extra-Terrestrial contact. Everyone that talks about the Bible and doesn't know that God and Christ are Extra-Terrestrials doesn't know what they are talking about. The result of these fools creating their stupid ritualistic religions is that many people now think that the Bible is a fictional book and that God is some kind of non-existent, imaginary or "metaphysical" entity that cannot be comprehended. The Bible is a collection of ancient Books about Extra-Terrestrials and God is an Extra-Terrestrial. Either God or His Extra-Terrestrial representatives are coming soon to Gibraltar, so get ready. Many of you have already seen small ufo scout-ships to let you know that "the Truth is out there" and in The Way home or face The Fire (TWHOFTF). Those who have read it already should now access JAHTruth.net/emmau2 for confirmation of the author's identity. Those who haven't read TWHOFTF need to do so now.
Gibraltar's Sovereignty Is God-given and Protected By God
Only action, not words will end the sovereignty dispute.
Gibraltar is the Fortress of Rock and the Rock of Defence, as described in the Holy Bible. In the True Koran, it is the Rock of the Night Visitant (Christ). If Gibraltarians accept Christ as their rightful King; instead of the evil, greedy, Nazi Windsors; they not only have rights to the Rock, but also to southern Iberia, that was taken from the Tribe of Gad, its original inhabitants.
Today's politics and tactics are a form of modern-day warfare being used by those in Madrid to try to steal the Rock.
Given Gibraltar's stable economy compared with Spain's, it makes it a prime financial target. But also given Madrid's corruption and its inability to manage its own finances, it's likely they'd absorb Gibraltar's riches and quickly lay waste to Gibraltar as it's already done to Spain. But the thing about politics is it always SEEMS to be FOR the people, by informing everyone what they should want or must have, or do, when it's really about the demands of the greedy wealthy and powerful.
Madrid's track-record in protecting its people is worse than AWFUL, as the country is being plundered by the International Banksters, when it should be looking at Iceland as an example of how to protect its citizens, not eyeballing a raid south of its border to divert its people's attention from their abysmal mismanagement. And while men look to divide using politics, religion, region, and rites; the "I AM" God looks to unify the Campo and secede from Spain.
God Has His Sights On the Rock For His Plans.
That's why it's such a spiritual place.
Gibraltarians need to stay unified to the point of ignoring Madrid's "diversion" games which it uses to try to divert attention from and hide the corruption and collapse that's happened to Spain, by its politicians' own abysmal mismanagement. Madrid touts that it has historical claims on Gibraltar, but that is not the case. Gibraltar has been British-Israelite for thousands of years - at least as far back as the time of Solomon, the son of David the shepherd who slew Goliath with a tiny rock. Before the time of David and Solomon, Gibraltar was visited by Moses, and Joshua the son of Nun, after whom the well at Europa Point is named.
Madrid makes its false claims based on the fact that Spain controlled the Rock for a short spell in history. The Romans invaded Iberia; then the Vandals invaded, renaming Southern Iberia "Vandalucia", or Andalucia today. But Iberia originally belonged to the Biblical Israelites, as they migrated North and West. Iberia is actually a corruption of the word Heberia, which means "Hebrew's Land". It was the Hebrew Israelite Tribe of Gad that occupied southern Heberia/Iberia, as they do again today. The last two peoples to invade were the Moors, followed by the Spanish, who ruled for only 203 years, until it was taken back by Hebrew Israelites - the "British", which means "People of the Covenant" in Hebrew. After 1704 the British Gadites returned to the Rock, where they have lived again for the last 300 years.
Thus, Spain's once occupation of Gibraltar doesn't give it historical rights. See, JAHtruth.net/britspan.
Finding YOUR Way Home
Gibraltar once held a valuable Key to Life, until an evil priest had it removed from the Gibraltar library
Its message is simple - it's about life; its meaning; its purpose. But it will challenge everything you think you already know about God, the universe, and yourself.
Some call it the most important book on the planet. Some reject it. But haven't there always been people who can hear and see and people who can't?
And there have always been people who lead, follow, and others who stand in their way.
If you love the "I AM" God above all else, this book is for you. If you love the traditions of men, you'll fight it tooth and nail. But by no means should you decide for another, or let anyone else decide for you.
PDF AVAILABLE FREE ONLINE: thewayhomeorfacethefire.net